Nortel Telephones T7100, T7208, T7316, M7100, M7208, M7310, M7324.
This webpage provides useful information, affordable pricing, and online sales of Nortel Telephones.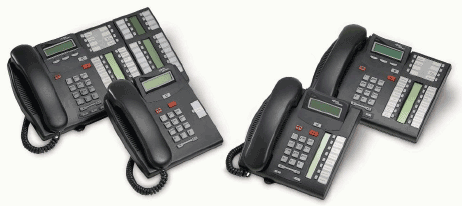 To end users, the Nortel Telephones that sit on their desks are the system. It's the critical interface that determines how easy it is for them to use the phone system, and in turn, how productive, effective and satisfied they will be. That's why Nortel offers a wide range of user-friendly Nortel Telephones to fit any niche in the business, from the front desk to the conference room, from supervisors who spend their days on the phone to mobile workers who are never at their desks.

There's an entry-level, single-line telephone ideal for public areas such as cafeterias and lobbies., a choice of multi-line, display telephones and consoles for moderate to high-volume users.., cordless phones for several distinct environments, plus an audio conferencing unit and doorphone.

Since Norstar Integrated Communications Systems support any combination of these phone sets, you can mix and match for the best economy and utility. You could equip public areas with the most basic one-line sets, give office professionals and technical specialists multi-line units with integrated display, provide more feature-rich sets for supervisors and managers and equip receptionists and emergency contact positions with modular desktop solutions that efficiently distribute calls.
Nortel T7100

The Nortel Telephone T7100 is an entry level, single-line telephone designed for public areas such as lobbies, cafeterias, hallways, break rooms, or other locations where use is occasional.

---

Nortel T7208

The Nortel T7208 is an enhanced-level, multi-line telephone with an integrated LCD. It is intended for moderate call volume users such as office professionals and technical specialists.

---


Nortel T7316

The Nortel Telephone T7316 is a full-featured, expandable, multi-line telephone that has a two-line, 16-character-per-line display that is menu driven and supported by three context-sensitive soft keys. The T7316E provides access to 24 memory buttons, 16 of which include multi-segment icons for fast and precise decision making. It is designed for high call volume positions requiring access to extensive system features. Typical users include supervisors, managers, executives, and other business professionals.
Nortel M7100 Phone

Black - Single Line Phone

A single line telephone set for use as a courtesy phone or in areas with low usage requirements such as lobbies or break rooms, the M7100 has one programmable button, one feature button and a one-line by 16 character LCD Window.
Release button for concluding calls without hanging up the handset.
Features
Hold button to pause a conversation without disconnecting.
Volume Control bar allows users to adjust speaker or handset volume based on their needs or ambient noise.
LCD Window displays basic information about call length and called number

---





Nortel M7208 Phone

Black - Norstar 8 Button Basic Digital Display

This basic Nortel telephone is ideal for users who need access to a just a few lines, programmable features, and autodial numbers. The Norstar M7208 is well-suited for areas with shared telephones, like manufacturing plants, retail departments, or repair centers.
Features
Up to 6 lines and has 8 programmable buttons
1-line by 16-character LCD Window

---


Norstar M7310



Nortel M7310 Phone

Black is an Enhanced Digital with 2 Line Display

This fully-featured Norstar telephone is designed for users with more extensive calling and call handling requirements. It includes up 34 feature buttons, LCD display and more. The M7310 is extremely easy to use and is expandable.
Features
10 programmable line or feature buttons
12 dual-function memory buttons provide quick access to 24 additional frequently-used features or autodial numbers, ideal for users who often call the same customers, suppliers, or accounts.
2-line by 16-character LCD Window
Expandable using the Norstar BLF

---


Norstar 7324



Nortel M7324 Phone Black - Norstar 24 Button Digital with Display

This expanded (and expandable) Norstar telephone is designed to handle heavy call volume and feature requirements. With its 24 programmable buttons, LCD Window and softkeys, the M7324 is ideal for secretaries, receptionists, and other centralized call answering positions. The Norstar Telephone M7324 is expandable with the Norstar KLM / CAP
Features
24 programmable buttons for lines, features, and autodial numbers two-line by sixteen-character LCD Window and softkeys 2-line by 16-character LCD Window
Expandable with the Norstar KLM / CAP

---

Nortel Cordless Phone

The Norstar T7406e Cordless Telephone is a desk-centric mobility solution, designed for use in a small to medium enterprise site, branch office or franchise site. These businesses typically require a coverage area of 282,000 feet or less, with 1-6 users. A key component of both the Business Series and Norstar Portfolios, the Norstar T7406 Cordless phone enables you to deliver better customer service while making your employees more productive with workspace mobility. The business value you get from your Norstar T7406 cordless phone will become apparent immediately.

---

Busy Lamp Field

For improved call handling, add a BLF…
Add a Busy Lamp Field to the M7310 and see the status of as many as 24 telephones. Excellent for receptionist and secretary positions who need to know whether a phone is idle, busy, or on "Do Not Disturb" before transferring a call.