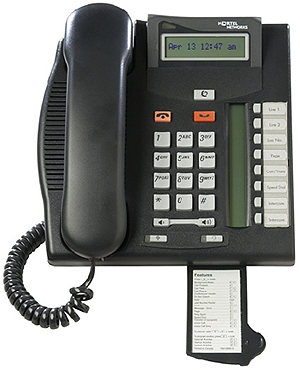 This webpage provides useful information. affordable pricing, and online sales of the Nortel T7208 Phone in stock.
The Nortel T7208 Phone is an enhanced-level, multi line digital display telephone with an integrated display LCD. Display It is intended for moderate call volume users such as office professionals and technical specialists.
T7208 Nortel Phone Features and Benefits:r> Supports up to 6 lines
8 programmable memory buttons with LCD indicator
Tilt display with integrated visual ring message waiting indicator
1 line, 16-character display LCD window
Desktop Assistant Labeling Application compatible
Large ITU dial pad
Hands free operation
Built-in headset jack
Audio control center
Quick feature decal (optional)
Feature access button
Hold button
Release button
Wall mountable
Available in charcoal and platinum colors
Compatible with Norstar and Business Communication Manager systems
Hearing aid compatible.
English or French keycaps (optional)
Long handset cord -2.7m (optional)
Shoulder rest (optional)
Compatible with all Nortel & Norstar digital phone systems.